Ah.. packing the hospital bag. It's a big moment for many expecting parents but for many first time parents especially, it can be stressful knowing what to pack incase you miss something important!
Well, this article will go through the hospital bag checklist of all the key items you will need once you get to the hospital or birth centre.
When to pack the hospital bag?
If you are anything like our household, you will have the hospital bag packed after 21 weeks. However, a good time would be anything from about 30-34 weeks.
That might feel a little early, but it means you are organised and are prepared for any early arrivals.
Who should pack the hospital bag?
We fully believe that both mum and birth partner (usually Dad) should be involved in the process of packing the hospital bag.
Why?
Because mum will know what she wants/needs in there.
And the birth partner will need to know where everything is in that bag when it's required or when Mum screams for it, as things might be needed out of the hospital bag with haste.
Hospital Bag Checklist
So what should be in the hospital bag for baby, Mum and birth partner?
See the following sections for the hospital bag essentials for all 3.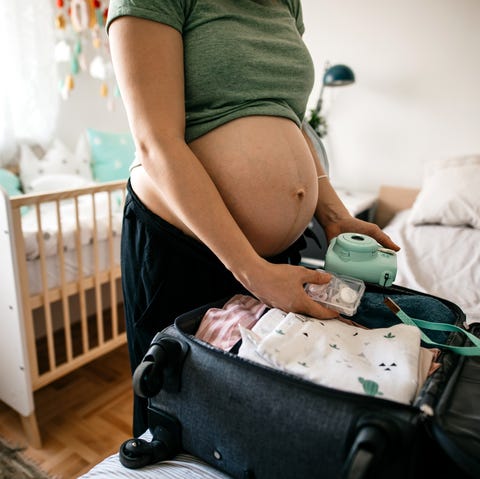 Hospital bag For Mum
Nursing bras and well-fitted bras.
Breast pads and nipple cream.
Maternity pads, especially some heavy-duty ones.
Loose comfortable clothes. Also, a change of clothes as you might be in hospital a little longer than expected and having some extra clothes can be helpful. Also, have an extra blanket if you are in hospital during the winter.
Night wear. Night gowns are usually best when in hospital, especially after giving birth. Also, don't forget your dressing gown.
Toiletries. Body wash, shampoo and other toiletries such as body lotion and face wipes.
Other helpful items include lip balm, water spray, hair ties and flip flops.
You may also be interested in: How To Setup A Safe Sleep Environment For Your Newborn 
Hospital Bag for Birth Partners
Entertainment such as magazines, a tablet and plenty of content downloaded on their mobile phone to pass the time.
Toiletries. Depending on how long you are both in hospital for, you may need toiletries to freshen up.
Likewise, loose and comfortable clothes, as well as a couple of changes of clothes.
Blanket and pillow. Hospitals don't do second beds so having something for your birth partner will be essential for them being a little more comfortable and warm. 
Hospital bag for baby
Baby clothes. They will need several pairs of their newborn babygrows, and also a hat as their heads are so delicate and soft in those early days, and newborns get cold quite easily.
Scratch mittens are also useful as their nails can come be quite long depending on when baby arrives. Usually, they are long if the arrival is after due date.
Muslin squares. These are helpful for feeding and spit ups from the baby.
Sterile bottles and formula milk. Whilst most mums set out to breastfeed, sometimes a bottle feed will be required.
Nappies. A bag of newborn nappies will be essential for the hospital bag.
Wipes. Needed for those poos and nappy changes!
A going home outfit. Every new parent wants to snap the moment when they leave the hospital and return home with their new baby.
Cotton wool balls. These will be useful for doing any gentle washing of your newborn if you are in hospital for a few nights or more.
Blanket. Newborns get cold easily and blanket will be needed for their hospital crib and for the car journey home.
Car seat. Most parents will be returning home in their car so they need a car seat to safely transport their baby home. It's worth getting this purchased and setup in the car with a few weeks notice too.
General Hospital Bag Essentials
Hospital notes. These are essential for checking in to hospital and for your midwives to note everything on during labour.
Birth plan (if written) so that it can be shared with your midwife for labour.
Snacks and drinks for the adults. It's important to keep everyone's energy levels high, especially for mum so lots of healthy snacks and drinks are important. And many hospital vending machines aren't always working or stocked with good items.
Labour is thirsty work so lots of drinks are an essential to be back.
Transport At The Hospital Or Birth Centre
It's wortwhile doing a test run of the trip to the hospital or birthing centre ahead of going down there for real. It's one of the top tips we were given before the birth of our first child.
Knowing where to go, and where the car park is, without feeling incredibly stressed and time pressured, is really helpful.
Overall…
When writing up your hospital bag checklist, it's important to know what your must haves are. Anything else can either be dropped to you by a friend or family member, or you can do without.
Speak to friends who have been through it before – they will remember top tip items which you can then add to the core list you already have.
It's likely that a small suitcase won't be enough for all of the items you need. So we would recommend two bags – one for birth partner and baby, and one for Mum. This will make it easier to navigate finding critical items when they are needed.
As leading UK & Ireland sleep consultants, our main aim is to get babies sleeping better and longer. We have a newborn sleep course which focuses on setting up essential foundations, which can help sleep improve after as little as 6 or 8 weeks.